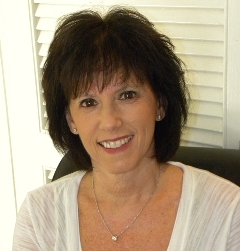 ABOUT OUR OWNER AIMEE KAUFMAN, CPA
EDUCATION:
~Aimee Kaufman fell in love with "debits and credits" when she took Accounting 101 while studying Business Administration at Ithaca College.

~After graduation, she decided to pursue a career in accounting and furthered her education at Fairleigh Dickinson University where she received an MBA in Accounting.
PROFESSIONAL EXPERIENCE:
~Aimee landed her first job in the private sector as a Staff Accountant at BASF Wyandotte Corporation where she assisted in the preparation of federal and state income tax returns, bank reconciliations, monthly closing schedules, sales budgets and financial statements.

~While at BASF, she decided to continue on her journey of becoming a CPA. After passing the exam she moved on to one of the Big 8 public accounting firms known at the time as Ernst & Whiney. For two years she compiled financial statements, prepared corporate income tax returns and researched corporate tax issues as a Senior Accountant.

~Upon deciding to raise a family, Aimee headed back to BASF on a part-time basis where she researched corporate tax issues, coordinated IRS audit requests and assisted in formulating the company's position. She was extremely disappointed when, after seven years, she was given an ultimatum of either working full-time or no time.

~Choosing to continue working on a part-time basis while her children where young, Aimee changed gears and became the Office Manager for Bedrosian Oriental Rugs, a high-end retail establishment with three locations. Utilizing her extensive accounting background, she not only formulated procedures to improve the recordkeeping for sales, inventory, accounts payable and payroll functions, she also helped develop a customized computer accounting program for implementing these procedures. In addition, Aimee took on mangement responsibilites as she supervised and trained clerical employees. After learning the business from behind the scenes, Aimee discovered that she had a knack for sales and a natural ability to relate personally with customers. Upon this discovery, she became the Sales Manager of Bedrosian's Harding Township Showroom and continued to grow the business until she decided it was time to return to her roots and get back into accounting.
~Aimee took QuickBooks training classes and began working for Richards Group PC in 2006 as a Senior Tax Accountant. She is responisible for maintaining QuickBooks records for small businesses, compiling financial statements and preparing sales tax returns, payroll tax reports and federal and state tax returns. She also responds to IRS and state tax notices and audits. Aimee continues to work at Richards Group PC while building her accounting and QuickBooks business, Priority Accounting Solutions LLC.
~When Aimee created Priority Accounting Solutions LLC, she tapped into her wide range of professional experiences and focussed on helping small business owners organize their books and improve their recording and reporting of financial information.
~As a QuickBooks ProAdvisor, Aimee trains owners and/or their staff how to maximize the benefits of this multifaceted program. She can recommend the purchase of an appropriate version of QuickBooks (at her discounted price) for those who prefer to maintain their records in-house or she can maintain business records on QuickBooks in her office.
~Given Aimee's outgoing personality, she is the perfect person to act as a liason between business owners and their tax accountants. Her goal it to help small business owners minimize their year-end accounting responsibilites and eliminate their tax season headaches.